Bottom Line Up Front: Garmin has hit a home run with its newest offering. It is a thoughtful combination of many watches/devices I own. I highly recommend it for a specific demographic. Here is my Garmin Instinct review.
My (abbreviated) Watch History
I have been wearing fitness bands or smart watches for many years. I have owned multiple Garmin, Polar, Fitbit, and Casios. The most recent few devices I have had were all good but not great. They were the Garmin Fenix 3, Fitbit Ionic, and a Casio G-Shock (non-smart, basic, time/chrono only). The Fenix did everything I wanted, but I grew tired of its size. I tried the Garmin Vivoactive 3 but wasn't impressed. Then I got the Fitbit Ionic, which I loved except for the battery life and the screen that wasn't always on. I had to get rid of it also because my new job was in a secure area, which didn't allow any devices with WiFi capability. So I got a basic G-Shock, which looked cool, but was too large, uncomfortable, and didn't do anything a smart device can do. Then one day, I hear Garmin released the Instinct, which essentially mashed together my last three watches! Jumped all over it.
FYI/SA – if you want to read more about the Ionic, Vivoactive or Fenix 3, I wrote a review of those too here. Now on to the details of the Instinct.
What Is The Garmin Instinct?
It's basically a one-stop shop for a functional, stylish smart watch that provides Garmin's exercise performance metrics with activity tracking as well as outdoor performance in a damage resistant shell for under $300.
Who Is It For?
If you are the type of person who has a military-style watch that does the ABCs (altimeter, barometer, compass) AND/OR someone who has a Garmin device to track long cardio events AND/OR someone likes the design of the Casio G-Shock AND/OR someone who has a Fitbit/activity tracker this MAY be the device for you.
If you are looking at purchasing a Garmin Fenix, Garmin running watch, Suunto, or G-Shock, take a look. This is pretty much as functional as the top-of-the-line Fenix 5 at half the cost.
What Do I Like?
Size. I used to have a Garmin Fenix 3, which I loved, but the size of the device became annoying during running but also in everyday life. It looked cool and was very useful, but the size wore me down. This device is about 1/3 less heavy, which ends up being a lot. It's 52 grams. Most of the other outdoor/larger G-Shocks are around 75 grams and have larger faces to boot.
Battery. I have had more than a few smart watches/activity trackers from Garmin and Fitbit, but none of them are even close to the battery of the Instinct. It will do 3-4 weeks on a single charge without much GPS (I almost never turn it on to measure my exact distance ran or hiked). If you were to use it a few times a week for a run or a bike or a ruck, I assume it would last 10-14 days easy, which is a lot. Even the larger Fenix line can't touch this device's battery life. HUGE plus.
Always on screen. A lot of smart watches (Apple watch, Fitbit Ionic) have screen that are nicer than the Instinct for sure, but to save battery life, they turn off/on automatically. So you can't just glance at your wrist; you have to make a pronounced rotation to look at the watch or tap it to turn it on. I don't like it. Instinct is always on.
Customizable face. There are a few different watch faces and within each face you can customize the information you see on the default home screen. I have mine set to show time, date (day and weekday), daily steps, sunrise/sunset time, and barometric pressure changes. I actually use all this info every day and am happy to have it readily accessible. I love the ability to change faces periodically and see different information if I want.
Durability. This device is meant to be like a G-Shock (not quite as robust) so you can expect it to be much more resistant to damage than a $750 Fenix 5 and any other Garmin for that matter.
Band. This is the most comfortable band I've worn on a watch in memory. It's very soft and flexible while being sturdy. It's also got many holes to get fine adjustments to find the right fit.
App. Garmin's app isn't as good as Fitbit's, but it's good. Lot of info and it syncs quickly.
Price. At $299, this device is a bargain as compared to the current stable of competitors with this much capability. It's effectively a Fenix-level device with a smaller, G-Shock-like footprint.
What Do I Not Like?
Sleep tracking. It's decently accurate when I am actually asleep and it tracks movements, but if I just sit down any time after 7 PM it assumes I am asleep. So if I were to sit down to watch a movie from 7 to 9:30, then go to bed and wake up at 6 AM, it would think I was asleep the whole 11 hours even though I wasn't motionless, just in reduced motion from 7 to 10 PM. Fitbit never does this. It's always dead on. I have to adjust the Garmin's bedtime manually every weekend. Weekdays are pretty accurate since I don't sit down in the evenings almost at all until I actually go to sleep.
Heart rate tracking. We all know wrist-based heart rates are not like chest monitors, but the Instinct (and any other wrist-based ones I have used honestly) just isn't reliable for intense activity. Below is a comparison of the same event with the Garmin Instinct on one wrist (left side) and the Polar H7 heart rate monitor on my chest (right). You can see the Garmin never registers me above 94 beats but the Polar says I got well above 150. They have the same raising and lowering/peaks and valleys, but the absolute values are far off. The Instinct (and all wrist-based devices) are just useless for heart rate at this point.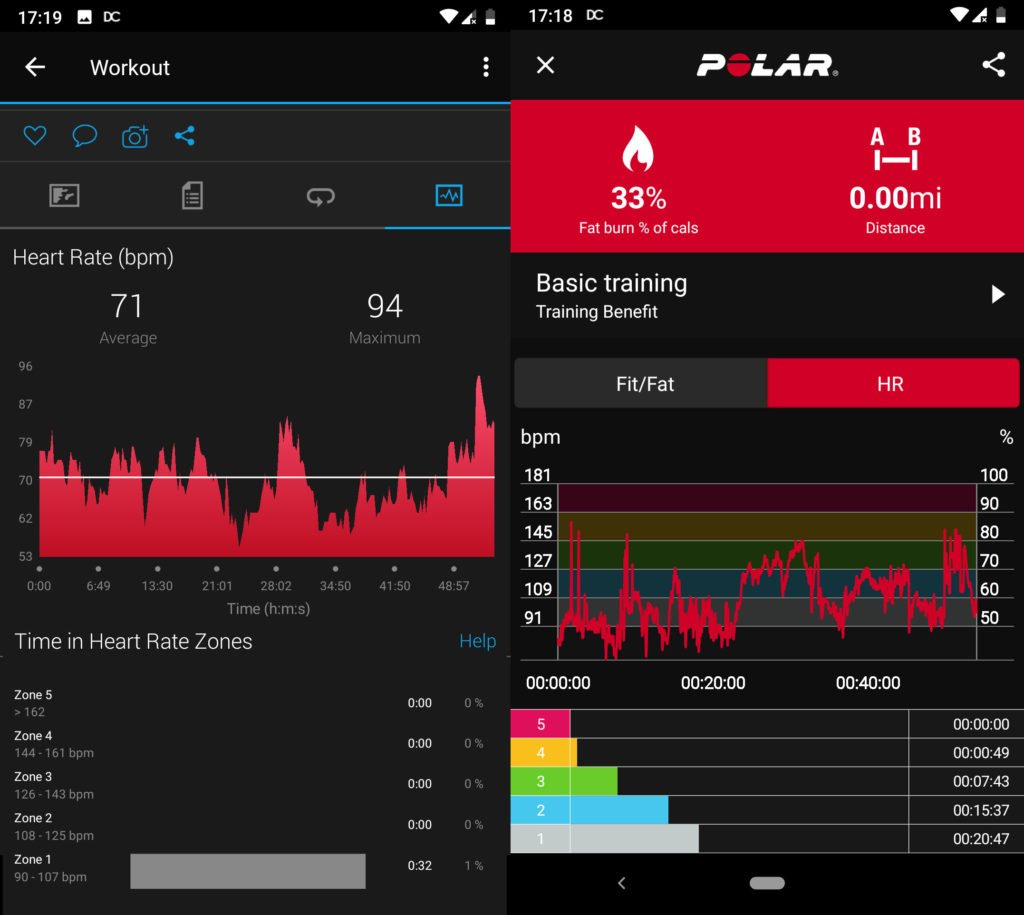 Limted watch faces. Although I like the watch faces and customization of them, I wish there were more options. This device has a few options for faces and I just want a few more that are slight mash-ups of the ones it has. This is a minor critique, I will admit.
Final Thoughts
This is a great watch for the kinds of people who are probably reading this article on this site. If you want to have some capability in the outdoors plus want the Garmin fitness tracking, this watch fits the bill. If you just like the look and want something smart-ish, you can probably spend less money on something else. If you want just outdoor ABCs, or just fitness measurements or just steps and sleep, you can find less expensive devices that do each. But in one total package, there isn't a true competitor to this at this size and price point on the market.
Still want more? Go to DC Rainmaker's in depth review of the Garmin Instinct for every detail possible on all the specs if you want to get nerdy.
Post thoughts/questions to comments.